Jacob Moore Named Vice President, Special Advisor to the President on American Indian Affairs
The Role Will Expand ASU's Initiatives to Support Indigenous & Tribal Communities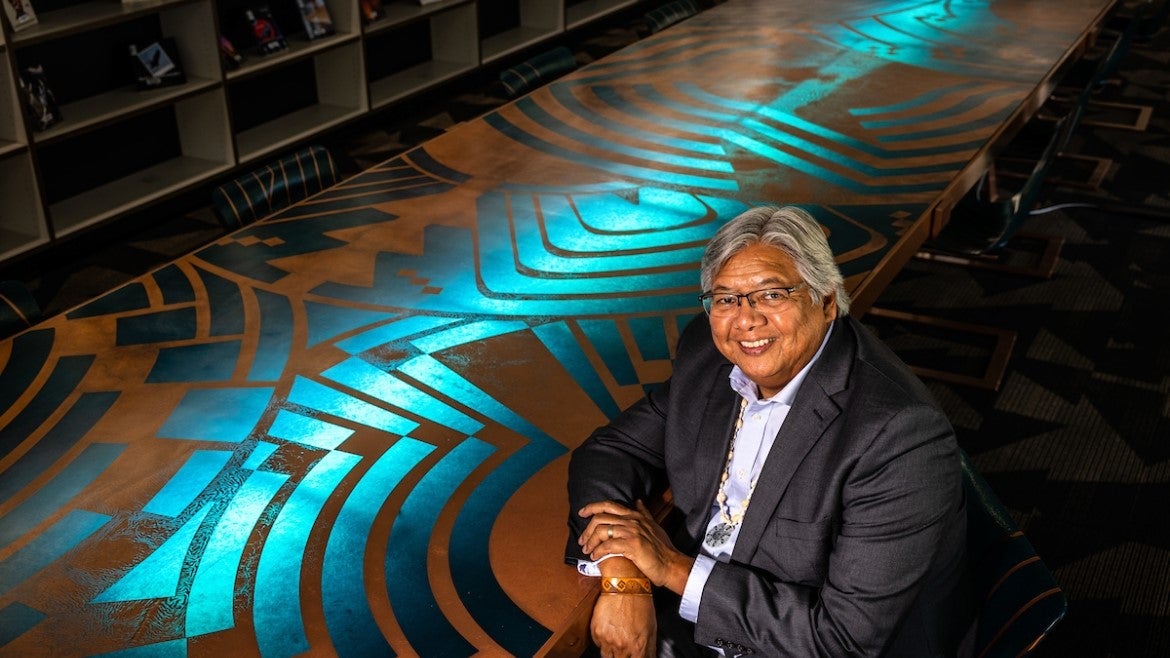 Tempe, Ariz., June 27, 2023 – The Office of the President at Arizona State University has named Jacob Moore as the new Vice President, Special Advisor to the President on American Indian Affairs. Moore will assume his new role on July 1, 2023.  
Moore was formerly the Associate Vice President of Tribal Relations in the Office of Government and Community Affairs at ASU. His work included intergovernmental affairs between ASU and tribal nations and communities. In his new role, Moore will cover a range of transformative initiatives, including utilizing Indigenous knowledge, developing partnerships, and aligning research projects with tribal priorities.
Moore began his professional career with Arizona State University fourteen years ago. He received his MBA from the W.P. Carey School of Business and has professional experience in health policy, economic development, and tribal government, as well as eight years on the Arizona State Board of Education.
"I am grateful for the opportunity to be of service to ASU and to Indigenous students and communities," said Moore, who is Lakota, Dakota, Tohono O'odham, and Akimel O'odham. "Assuming fundamental responsibility for the economic, social, cultural and overall health of the communities it serves is straight out of the university's charter," Moore said. As he takes on this role, strengthening relationships with Tribal partners will be a priority.

It is no accident ASU is a national leader in serving Native American and Indigenous students. In 2020, ASU's enrollment of American Indian students reached 3,500; in the same year, 679 Indigenous students graduated. Currently, ASU employs approximately 60 Indigenous scholars, one of the largest cohorts assembled at a university in the United States. For more information on the work ASU and President Michael Crow have committed to Indigenous and Tribal Affairs, click here.
"Arizona State University is working harder than ever to support the success of Native American students, and Jacob Moore has contributed meaningfully to our progress," said ASU President Michael M. Crow. "Jacob is knowledgeable and passionate about developing better ways to serve tribal communities, and we are excited to see where his leadership will guide us."
About Jacob Moore
Jacob Moore is responsible for the intergovernmental affairs between ASU and tribal nations and communities. Previously, Jacob Moore was managing partner for Generation Seven Strategic Partners, LLC, and also worked as an Economic Development Analyst and Special Assistant on Congressional and Legislative Affairs for the Salt River Pima-Maricopa Indian Community. Jacob previously served as a member of the Arizona State Board of Education. Mr. Moore is currently on the board of directors for the Arizona Community Foundation, ASU Morrison Institute, WestEd, Arizona Minority Education Policy Analysis Center (AMEPAC), and Tohono O'odham Gaming Enterprise. Mr. Moore earned a Bachelor of Science degree in Finance and an Executive MBA from the Arizona State University's W.P. Carey College of Business and is a citizen of the Tohono O'odham Nation.
Executive Master's in business administration, WP Carey College of Business, ASU Bachelor of Science, Finance, WP Carey College of Business, ASU
Associate in Applied Science, Business Management, Mesa Community College, MCCD
About Arizona State University
Arizona State University has developed a new model for the American Research University, creating an institution that is committed to access, excellence and impact. ASU measures itself by those it includes, not by those it excludes. As the prototype for a New American University, ASU pursues research that contributes to the public good, and ASU assumes major responsibility for the economic, social and cultural vitality of the communities that surround it.