ASU expands fashion program through ASU FIDM
Expansion brings more programs, students, employees to downtown LA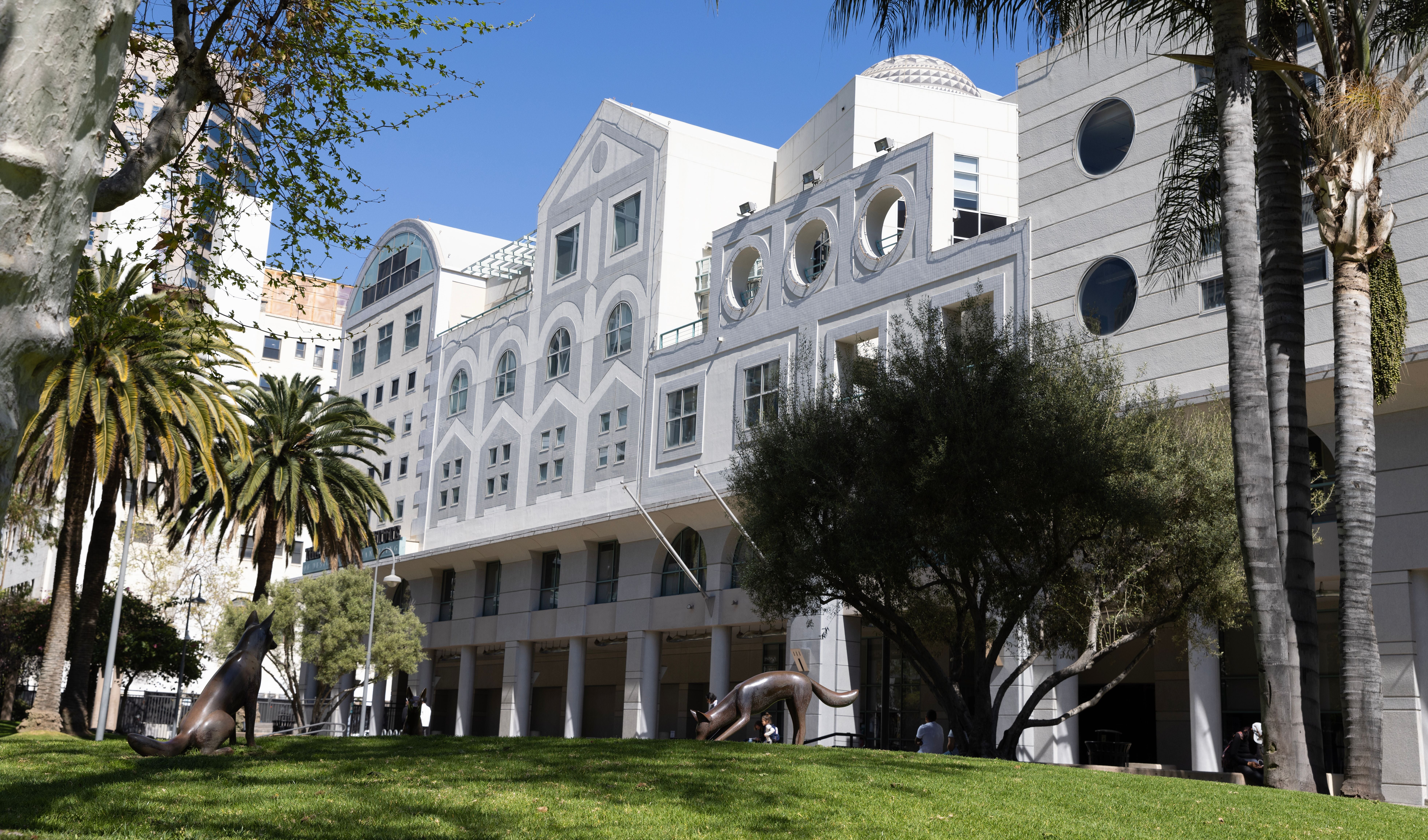 Arizona State University (ASU) announced today that the Fashion Institute of Design and Merchandising in downtown Los Angeles will be part of the expansion of fashion education at the Herberger Institute for Design and the Arts at ASU. ASU's fashion program will now be named ASU FIDM, incorporating both the FIDM community and campus, and it will operate in both Los Angeles and Phoenix.
ASU FIDM and the Herberger Institute will offer students pursuing degrees in creative industries enhanced educational opportunities by embedding world-class fashion education within a public research university with global reach. The transition will provide students with access to a renowned faculty with extensive industry experience, and the school will offer career-focused programs and experiences that enable students to have a sustainable and creative impact on the world. FIDM will continue to operate as a separate educational institution from ASU with a more intentional focus on academic programs related to business in the creative industries.
"Leveraging FIDM's and ASU's expertise and innovation around fashion and the creative industries will create significantly enhanced opportunities for students," said Steven Tepper, dean and director of the Herberger Institute for Design and the Arts at ASU.

"Giving aspiring creative professionals the chance to study at a global research university vastly expands their choices and their ability to contribute to a fast-growing industry. I am confident that ASU FIDM can lead the world in educating for the future of an inclusive, sustainable and socially responsible fashion industry."
ASU has already begun working with FIDM students to share ASU degree offerings that are available as a result of the expansion. FIDM fashion and design program students will be advised on opportunities to either complete their programs at FIDM or continue at ASU.

"We are so proud of the FIDM history and legacy," said Barbara Bundy, vice president of education. "What began as a dream five decades ago turned into a globally recognized creative institution that has served more than 70,000 graduates. Our tradition of excellence and inspiration will continue to thrive as a part of Arizona State University with students having expanded access to world-class facilities, faculty and programs to ensure they are prepared for a highly demanding, increasingly competitive and ever-evolving industry."

ASU FIDM students will continue to benefit from FIDM's strong relationships with leading companies and brands from around the globe. ASU's expansion will also sustain what has made FIDM special for many years, including the world-class FIDM Museum and other assets.

ASU students have embraced its expanding offerings in Los Angeles in recent years as the university has become a hub for educational opportunities in Southern California centered on its home at the ASU California Center located at the historic Herald Examiner Building. The university's presence includes its Cronkite News Los Angeles bureau, where digital and broadcast students create award-winning news and sports content; The Sidney Poitier New American Film School, which inspires the next generation of diverse filmmakers and storytellers; and the Sandra Day O'Connor College of Law, which provides students with a unique opportunity to take classes while exploring experiential-learning offerings and networking in the entertainment capital of the United States. ASU has more than 62,000 alumni living in California and 20,000 California residents as degree-seeking students, and 13 percent of its graduates work in California.
Current and prospective students interested in learning more about the ASU FIDM transition should visit asufidm.asu.edu.


# # #
About ASU Fashion Program
Launched in 2017 and led by Dennita Sewell, Arizona State University's fashion program is innovative, inclusive, diverse and relevant. ASU's BA in fashion is a professional, hands-on degree, providing students with a multidisciplinary foundation that enables them to work across many segments of the fashion industry and beyond. Course offerings emphasize key skills such as patternmaking, digital pattern making, technical design, garment construction, merchandising, supply chain management, retail management and branding. The principles of sustainability are embedded within all the courses, with an eye to producing the next generation of conscious industry leaders. ASU's fashion program has partnerships with industry and local collaborators across interdisciplinary fields, including Optitex, Dress for Success, Scottsdale Fashion Square, the Arizona Humane Society and Phoenix Children's Hospital. As of spring 2023, ASU has more than 500 students either majoring or minoring in fashion, with hundreds more from disciplines across the university who take individual classes to gain skills that complement their major or personal interests. The ASU Fashion program offers state of the art technology, including a suite of industry-standard studio spaces and recording studios, digital media labs, performances spaces and an interdisciplinary maker's space with laser cutters, 3D printers, felting and industrial knitting machines, and more.
About FIDM
FIDM was founded in 1969 by Chief Executive Officer and President Toni Hohberg. In its more than 50-year history, FIDM has developed and evolved cutting-edge fashion, design and business degree programs, helping students build an incredible network and launch successful careers as they gain knowledge and job experience. FIDM alumni include world-renowned designer Monique Lhuillier; Rea Ann Silva, founder of Beautyblender; Sarah Truly Beers, Marvel's vice president of franchise creative and marketing; Kia Ragland, director of global product development at Smashbox Cosmetics; costume designer Trish Summerville ("Red Sparrow," "Westworld," "Gone Girl," "The Hunger Games: Catching Fire"); Angelica Villegas with Kendo Brands; Johanna Lageder, senior production manager for Set+Stage Creative; and Jonathan Gitlin, partner and president of TV/streaming and gaming at Create Advertising.
Named one of the "Top 10 Sustainable Fashion Schools in the World" by the University Network, FIDM provides a technology-driven education that inspires, empowers and supports everyone. FIDM partnerships and classroom collaborators have included some of the world's most recognizable and influential brands such as Disney, Nike, Nars, Netflix, PacSun, Converse, Levi's, Pixar and more. Part-time work and internships have existed with companies like J Brand Jeans, L'Oréal, ColourPop Cosmetics, NBC Universal, Nordstrom and Anthropologie.
About the Herberger Institute for Design and the Arts
Arizona State University's Herberger Institute for Design and the Arts is the largest comprehensive design and arts school in the country, located within a dynamic research university focused on transformative change. Built on a unique combination of disciplines, the Herberger Institute comprises the Schools of Art; Arts, Media and Engineering; Music, Dance and Theatre; The Design School; The Sidney Poitier New American Film School, and the ASU Art Museum. The Herberger Institute is committed to redefining the 21st-century design and arts school through developing and scaling ideas that strengthen the role of designers and artists across all areas of society and culture, increasing the capacity of artists to make a difference in their communities. For more information on the Herberger Institute for Design and the Arts, visit herbergerinstitute.asu.edu.

About Arizona State University
Arizona State University has developed a new model for the American research university, creating an institution that is committed to access, excellence and impact. ASU measures itself by those it includes, not by those it excludes. As the prototype for a New American University, ASU pursues research that contributes to the public good, and ASU assumes major responsibility for the economic, social and cultural vitality of the communities that surround it.
Katie Paquet
Senior Advisor, Strategic Communications