Arizona State University to Create National Library Honoring Legacy of Sen. John McCain
President Biden announces funding support for 22-acre Tempe project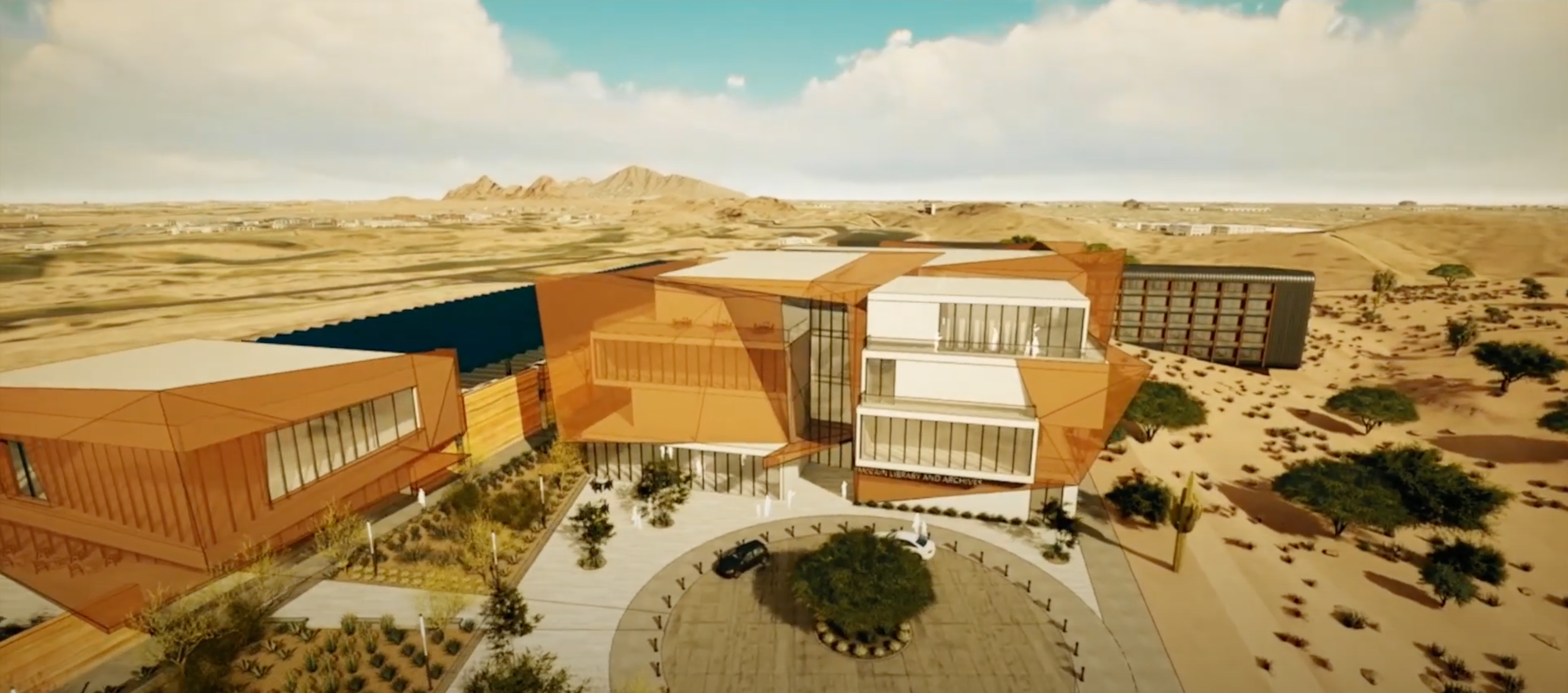 President Joe Biden on Thursday announced a major federal grant to the State of Arizona to help design and build a new McCain National Library at Arizona State University.
The McCain National Library will honor the life and legacy of the late John McCain, who represented Arizona first as a Congressman and then as a longtime United States Senator and a Republican presidential nominee.
Joined by members of the McCain family, President Biden called the plans a fitting tribute to his good friend, longtime fellow Congressman, and American statesman.
The new 80,000-square-foot National Library will include archives for Senator McCain's papers and materials from his decades of high-profile work in Arizona, Washington and around the globe while in office. A visitor's center and an Arizona home for the Washington, D.C.-based McCain Institute are among other elements planned for the site, envisioned as a solutions center and gathering spot to learn more about leadership, democracy and national security.
"John McCain is an important symbol of American democracy and he holds a special place of respect and appreciation in Arizona and with Arizona State University," President Crow said. "We will work with others around the country and in the community to take this unique portion of the ASU Tempe campus and create a place that honors his extraordinary life and legacy, serves the principles he devoted his life and career to, and carries that legacy forward for future generations to learn from."
The project will rejuvenate an often-overlooked 22.5-acre part of ASU near Mill Avenue and Curry Road, across Tempe Town Lake and north of the university's main Tempe campus.
ASU has owned the site since 1980. Now home to the university's community services building, the location by Papago Park offers elevated views of the nearby Rio Salado riverbed, Tempe Town Lake, the city of Tempe and ASU's Tempe campus.
ASU in the coming months will work with the McCain family, Gov. Katie Hobbs, and Arizona community leaders to launch design and construction.
ASU already is home to the archive of the senator's papers from his public career, a place where scholars, journalists, students and the public can study his work and life. As design and construction of the McCain Library proceeds, ASU will identify complementary programs, uses and partners that can be further integrated into the site.
"John McCain is a national hero, an Arizona icon, and an inspiration to Americans from all walks of life for his robust defense of democracy, his patriotism and love of country, and his commitment to service," said Evelyn Farkas, executive director of the McCain Institute at Arizona State University, the 10-year-old, nonpartisan, Washington, D.C.-based organization focused on advancing the legacy and values of Senator McCain.
"It is fitting to honor a statesman of Senator McCain's caliber with this federally-funded library," Farkas said. "The McCain Library will be an outstanding resource for the McCain Institute, Arizona State University and the wider-Tempe community. We are proud to be a part of this effort."
The ASU Foundation will fundraise to support the development and enhancement of the site.
"John McCain was an exemplary leader who made a positive impact on many people nationally and within the ASU community" said ASU Foundation CEO Gretchen Buhlig. "Our development team will connect with donors who are passionate about the library's offerings to serve ASU students and the greater community for years to come."
While the location by Papago Park is of interest to park enthusiasts and those committed to the Rio Salado, the university is focused on the fact that Papago Park's origins are of importance to Native American tribes.
"The Papago Park area has been home to Native American peoples for thousands of years," said Jacob Moore, Vice President and Special Advisor to President Crow for American Indian Affairs. "ASU recognizes the special place of Papago Park in the culture and history of tribal communities in the Phoenix area. We intend fully to work with those communities to ensure that the planning and design process incorporates their interests and sensitivities and honors those lands as Native American lands." 
The schedule and timeline for planning and development for the ASU project has not been established.
John McCain represented Arizona for 35 years. He was first elected to the U.S. House of Representatives, serving two terms. He then moved to the U.S. Senate, succeeding Barry Goldwater, from 1987 until his death in 2018. McCain was the Republican nominee for President of the United States in 2008.
Following his death, McCain lay in state in both the Arizona State Capitol and the U.S. Capitol, and his funeral was televised from Washington National Cathedral with former presidents in attendance.